The dense and humid atmosphere of New Orleans makes it the ideal candidate to host a myriad of plants and vegetation. The lush soil and swamps host an endless amount of verdure, whose typical role is to hold the land in place. The root systems of the plants collect sediment, and their roots act as anchors to prevent the earth from washing away. Yet, due to the mass industrialization, the earth begins to slip away more each year, according to some articles as much as 10.8 miles per year. Not quite the length of a football field anymore. With the institution of levees, land is slowly being regained, but the utilization of plants as an anchor has been neglected.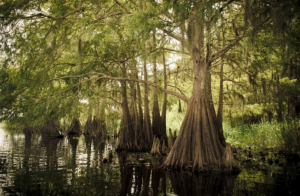 One of the most critical plants to swamp life is the Cypress Tree. It grows in Alabama, Arkansas, Delaware, Florida, Georgia, Hawaii, Illinois, Indiana, Kentucky, Louisiana, Maryland, Mississippi, Missouri, North Carolina, Oklahoma, South Carolina, Tennessee, Texas, and our very own Virginia. The cypress tree is resistant to rot and a very popular building material. It is a natural habitat for animals, its rounded roots housing fish, amphibians, and reptiles in the water. The upper bows are home to a multitude of birds, squirrels, opossums, and insects. Cypresses not only hold the land stable, but in the event of a fire the Cypress grows back rapidly and reestablishes itself in the desiccated environment.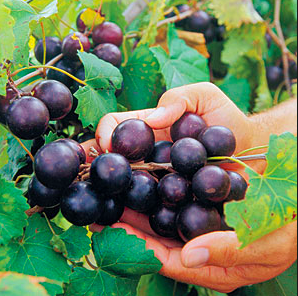 A popular plant of the South, is the Muscadine. Related to the grapevine, muscadine has berries
that are a deep purple-black in color. However, muscadine is limited to warm climates, as it is susceptible to cold and frost. The muscadine is edible, and is allegedly rich in antioxidants. However, it's most common use has been in muscadine wine.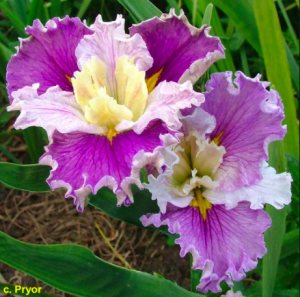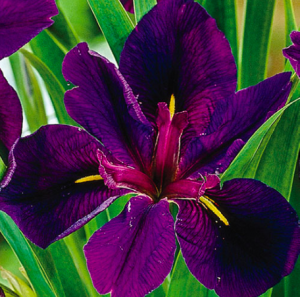 One of Louisiana's most known flowers, is the Louisiana Iris. It comes in a range of color; from yellow to red, from pink to purple, and from white to blue. The Louisiana Iris (or Sinfonietta) is a hardy flower that can grow in swamps, alongside bodies of water, and on damp hills. They need a plentiful amount of hydration, but can adapt to grow almost anywhere in the world; as long as they are cared for properly or have access to at least an inch of water a week during the growing season.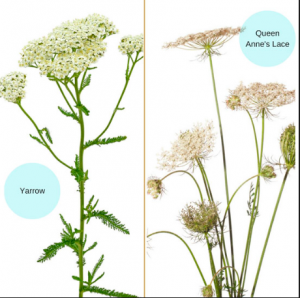 A wildflower that can also be seen as a common weed is the Queen Anne's Lace. Often mistaken for yarrow, the clusters of the small white flowers flourish throughout the moist marshlands. This flower has one darker bloom in the center and is a relative of the carrot. As such, it is edible but if eaten is typically consumed while it is younger. Over time, the Queen Anne's Lace becomes almost wood-like and too tough to consume. The Queen Anne's Lace is to be harvested with caution, as it closely resembles the deadly hemlock. In turn, too much of the plants' leaves can prove to make the human body sick. As a result, the Queen Anne's Lace has been know to have been used as abortifacient throughout history.
Despite the beauty that can be found in the foliage of the South, there are also many plants that can prove deadly (such as the above-mentioned hemlock). The Mustard Seed is toxic throughout its entirety; however, the most poisonous portion of the plant is the seeds. Animals (livestock) are most susceptible and can contract emphysema (over-inflation of the lungs) or blindness, and at times abortions have been recorded in pigs.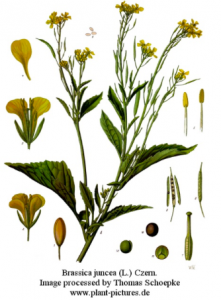 Despite the dangers presented in mustard seed, if it is cultivated correctly, can be used for medicinal purposes in humans. They are rich in minerals, vitamins, and antioxidants. For more information on the health benefits and risks, go to Nutrition & You. In New Orleans, mustard seed often arose not only in medicine, but in hoodoo.
Hoodoo and Voodoo have become interchangeable as misunderstandings, racism, and sexism have perpetuated an amalgamation of religion and magic. Voodoo is a religion, whereas Hoodoo has been known to translate to "root work" and is more of a folk magic. For more information, please visit the attached websites on the differences between Hoodoo, Voodoo, and Santeria. Within Hoodoo, the mustard seed has been known to represent "strife & discord.". It was used to cause confusion in enemies and was incorporated in multiple formulas and items (such as Hot Foot Powder) to cause trouble.
Wish to purchase herbal magic to pacify spirits or incense enemies? Try some "Authentic Voodoo – French Quarter."