The krewes of New Orleans are a time-honored tradition that have become integrated into the culture of Mardi Gras. Krewes are societies that operate for the purpose of parading during the carnival season surrounding Mardi Gras, and there are a huge number of them that currently exist, many of which have been around for decades. One of these is called Zulu, and it is particularly important. In the history of the krewes, there was a large period of time in which African-Americans could not participate. So, like with many other things, they created their own version of the cultural phenomenon for themselves. Krewes for African-American New Orleanians apparently began as benevolent aid societies, which were community organizations that aided their members during hard times. Zulu seems to have started like this, made up of the members of several different groups divided by the wards of the city that became a society for Mardi Gras parades. They were not without controversy, however, as they used blackface in their parading, making it extremely unpopular to be a Zulu for a while during the 1960s.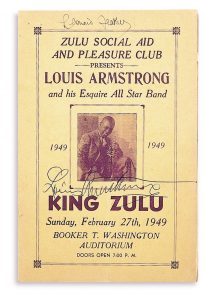 Today, Zulu is going strong. They are particularly proud of their place in the community. They support the community by donating Christmas baskets to the needy, contributing to the Southern University Scholarship Fund, and supporting public schools. Their past members include notable figures, such as Louis Armstrong, who was King Zulu in 1949. Anybody can be a member of Zulu, and their membership includes local government figures, educators, and laborers.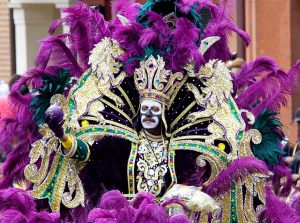 Zulu remains one of the most renowned krewes in New Orleans. It maintains the tradition of King and Queen Zulu, and still sends elaborate floats down the parade route. One of their traditions is to hand out painted coconuts along the parade route, in the same way that other parade participants may hand out candy or costume beads. It is a point of great honor to get a Zulu coconut at Mardi Gras.